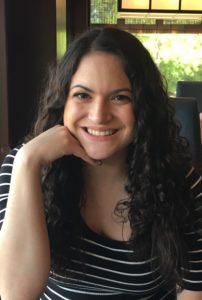 Nicole Balsamo is a Creative Writing MFA candidate and graduate teaching assistant at the University of Central Florida. She is a fiction writer with a focus on science fiction, fantasy, and urban fantasy. She takes an interest in the weird and unknown as a consumer and a creator. The weirder, the better.
Nicole writes about trauma and the human experience through an often-supernatural lens. Some of her favorite stories handle familial ties, loyalty, betrayal, and loneliness as experienced through a family of vampires, a coming-of-age story about familial abuse and generational disconnect in a Salem witch desperate to escape her mother, a gender-bent retelling of Hades and Persephone that examines gender, sexuality, and the social and cultural implications of each, and a dystopian version of Alice in Wonderland that tackles duty and honor to an authoritarian that doesn't deserve it. Above all, the thread that often connects her stories are trauma, why we love the people who hurt us, and what we will do to protect those people even if it hurts others.
Nicole is currently working on an urban fantasy novel and a handful of fantasy and science fiction short stories. She unironically loves vampires and has found that her time thus far in her MFA program has opened up a Pandora's Box of long-slumbering ideas on the subject, as well as reinvigorated her desire to write weird fiction. She has fallen down the rabbit hole and shows no sign of reappearing any time soon.

Nicole graduated from the University of South Florida with a bachelor's in English – Creative Writing, where she focused on fiction. She studied abroad in Japan at Kansai Gaidai University and lived in Hirakata, Osaka. She has been interested in Japanese culture, language, and music from an early age, and her writing often has Japanese influences.
Nicole has loved to play video games from an early age and that love has extended into her adulthood, where she either plays old games or eagerly awaits the release of long overdue new ones (looking at you, Tetsuya Nomura). She enjoys consuming anything dealing with time travel and alternate dimensions, even if it sometimes makes her head hurt. When not writing, she can be found playing with Luna, her mini Dachshund, replaying Final Fantasy X until the end of time, hosting discussions that nobody asked for about why Snape is the best character in Harry Potter, and being scolded by her boyfriend for pausing television shows and movies to give an unsolicited forty-five minute lecture on the character arc and story progression established in a two-minute scene. Nicole is basically a huge nerd.